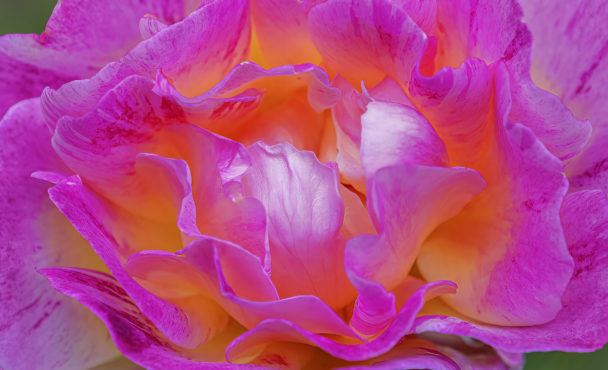 During a Rolling Stone interview, Shania Twain conveyed a beautiful metaphor to encapsulate the period of time in our life when our personal world is amiss and we must encounter ourselves on a deeper level than ordinary awareness allows. She said, "Once I made it, it was, 'Wow, I don't have to worry about running out of gas until I get my next 20 bucks', but that challenging part of life is still deep in the grooves."
At the height of her stardom, Shania discovered her husband was having an affair with her best friend. The shock of this revelation forced her "deep in the grooves," a metaphor for those times when we're forced to go far within ourselves to access inner knowledge and strength that we cannot access otherwise. Twain lived in shock, depression and misery for quite a while. No amount of money and fame could keep her from having to deal with the deceit and devastation she experienced, which was further compounded by the echoes of trauma from suddenly losing her parents when she was a child. While we each have varying levels of suffering that we experience in our lifetimes, we all go through our own periods of grief, loss, anxiety and despair, especially when life delivers a stunning blow to our expected futures and forces us deep in the grooves.
There's a certain illusion to life that compels us to believe we are in control of our destiny. To a certain extent that's true, but at some point in our lifetime we will be confronted with the unexpected. No matter how well we live, how conscious we are, how much we meditate or how much we believe in the Law of Attraction, the unexpected will remind us that we can only create modifiers to the nature that affects us. A chronic smoker can live to 100 years old, while a young man who's dedicated his life to healthy choices can die of lung cancer. We all engage in a certain amount of self-deception, thinking that our happiness is under our control until an unwelcomed event challenges this thought and forces us to course correct. The suddenness of the event is what shakes us, and the depth it reaches within us is what reshapes us. The result is often worth the suffering as we become better versions of ourselves in the process, and gain humility and wisdom to our own interaction with the greater forces that weigh in.
This subject in particular strikes a personal chord, as I have lately been deep in my own grooves. For many years I have struggled with back pain, uncertain of the duration, severity, and implications that this new struggle may impose on my envisioned future. At my core, I am a fun-loving and mischievous New Yorker who is active, engaged and always on the move. However, as my persistent back pain progressed, I had to come to terms with the possibility that my lifestyle, identity, and outlook was now being dragged about by forces that were unpredictable, challenging, and at times seemingly merciless. In response, I went deep in the grooves. I found myself submerged under the weight of failed remedies, grappling with my hold on coveted parts of my life that I now felt I was losing. Sleep became elusive, active hobbies became past-times, and work became a conscious and challenging exercise in a practice that had so recently felt like a natural and rewarding instinct. A part of me was always fighting the current, swelled with grief at the thought of having to abruptly accommodate my lifestyle and expectations to this new reality that I was still dubious of.
After almost two years of cycling through remedies, rehabilitations, and a chaotic vortex of swirling expectations and uncertainty, I eventually arrived at the conclusion I would need to undergo extensive back surgery. I was certain it would be a difficult recovery, but it had been so long since I had felt any certainty regarding my back, that having a path forward provided some temporary grounding, allowing a sliver of control and expectation into my life, which had recently started to feel like being tossed around at sea.
Those grounding moments, whether it's discussions with family, care from a loved one, or a reluctant and tempered decision to see a surgeon, can provide precious moments of thought and reflection. They can also create a scaffold, providing some sense of orientation to the opaque mysteries of our own depths. Since the surgery, my entire outlook on life and aging has changed. I'm more accepting of my restrictions and limitations and more intentional about my future. That's what happens when you go deep in the grooves, things change and, and if you keep climbing, you may just find yourself unexpectedly squinting into daylight.
Five Minute Articles For Your ConsiderationJan 30th, 202312 comments
Recent Posts

Categories

Archives

About the Author

Larry Laveman

, LCSW, BCD, is a

Psychotherapist and Author

in

Solana Beach

,

California

. His publications include topics on marriage counseling, supervision, mental health and spirituality. He is the former Chief Clinical Director for Harmonium, Inc., a community based nonprofit organization specializing in children, adolescents and families. You can find contact him via Google +, LinkedIn, or this website's contact page.